Rare Moments
$ 20.00
Jeanette's second book that explains what it is like to work as a medium. Real life stories of love and hope that inspire and uplift us spiritually.
Description
People come seeking a message. People from all walks of life wanting to know that their loved ones are at peace.
You can feel an air of expectation. the audience is nervous that they'll be chosen, yet hoping they will be; after all, they came seeking a message. The first connection is made and the audience is captivated as Jeanette communicates with their loved ones, putting their minds at rest and helping them move on with their lives.
Jeanette Wilson, an incredibly talented medium and the best selling author of Medium Rare, travels the country performing for sell-out audiences. Rare Moments shares with you memorable moments from the show and explains how they began. Jeanette gives you fascinating insights into her incredible gift and enlightening details of our journey beyond physical life.
These stories are the heart- breakers and the tear- jerkers: stories that will touch your soul. These are real-life stories of love and hope. You'll find them inspiring, moving and spiritually uplifting.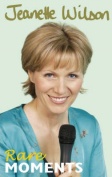 Only logged in customers who have purchased this product may leave a review.